About The Chairman and The Author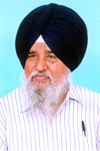 Dr. Sarup Singh Alag, chairman and the author does not need any formal introduction because of his excellent publications being distributed in the world absolutely free for the last many years. It is such a noble and gigantic task which only Dr. Alag could do and rejoicingly the Sangat has fully backed his project initiated under the name of Alag Shabad Yug International Charitable Trust, functional from its headquarters at Ludhiana and of course having effective supporters everywhere. Many dedicated and selfless Gur-Sikhs have taken the task of the Trust in their own hands and are running this prestigious project voluntarily in an exemplary way.

As far as Dr. Alag is concerned he is a well known scholar and has earned good name by representing India in several International level culture, civilization and language related seminars and conferences. For the last 40 years, the readers have been joyfully reading his very interesting, illuminating, thought provoking and valuable writings related to Panjabi language, Sikh religion and other burning issues demanding immediate attention of humanity lovers, such as drug addiction, foeticide and bride burning for want of dowry. His vast academic qualification backed by world wide knowledge, very rich and varied experience, tendency of deep research have acted as decent inputs for his much-liked and highly appreciable writings.

It is well known that after retiring from the high post from Pb. Govt. 15 years ago, he has dedicated his life to serving humanity selflessly and has taken the responsibilities for the all round development of mankind through the use of his powerful pen and oration with the sense of reverence, humility and dedication.

Although he has written more than eight dozen books but his 87 publications in English, Hindi, Punjabi, Gujrati and Bengali are highly acclaimed the world over and are on the panel of Alag Shabad Yug Trust Ludhiana-141010 for their free distribution. These are printed with the financial support of Sangat, donors and esteemed readers residing any where on the mother earth. In a short span of year or so, Sardar Alag could publish 51 deluxe editions of his most liked book 'Harmandar Darshan' in Panjabi, Hindi and English by the end of year 2001 which was the 4th centenary occasion of the creation of Harmandar Sahib. A very majestic and spirited GurSikh S. Gurcharan Singh Chatwal as usual, whole-heartedly backed this project along with his like minded associates. All these sewadars of humanity with their untiring efforts, made that specific project a great success. Lately S. Jaswinder Singh Toor again of London joined the Yug as its advisor and very strong supporter. He injected new spirit, new strength to the Trust by providing his solid financial backing and positive valuable suggestions. Trust is lucky that S. Jagjiwanpal Singh Bains of Northampton, S.Mota Singh Sarai of Walsall, West Midlands along with his friends and associates has also joined the Trust in a big way. The selfless and dedicated efforts of all these stalwarts would enable the Shabad Yug to bring out the suitable literature in sufficient strength especially in the next five years. Surely such soul lifting and spirit raising literature would raise the image of Sikhism and that too of the country in the eyes of the world habitants. Dr. Alag's efforts in this behalf are praiseworthy.

PERSONAL INFORMATION REGARDING ALAG, SARUP SINGH(Dr)
Qualification
MA (History, Urdu, Economics, English and Panjabi); Ph.D(Washington-U.S.A.) D.litt U.S.A; BT(A teaching degree); FIBR, Nagpur; Dip(Linguistics, Sanskrit, German, Education and Teaching); CBS Southamption(UK);

Status
Writer, Journalist, Orator, Scholar and Former Government Superior Officer.

Date of Birth
January 1,1936, Village Dora Badhal (Undivided India)

Wife's Name and Kids
Jasbir Kaur. Two Sons,
(i) Sukhinder Pal Singh Alag M.A., a young entrepreneur and married to Gagandeep Kaur M.A. in Music & English. The names of their children are Suninda Singh Alag & Udaiveer Singh Alag,
(ii) Prof. Raminderdeep Singh Alag (a promising businessman, M.A. English, Hons. married to Rupinder Kaur M.A. English & History. Their son is S. JagBir Singh Alag.

Parents
Father : late S.Lochan Singh Alag, Mother : late Sardarni Inder Kaur

Experiences
Ex-Secy : Staff Selection Committee PSEB
Ex-Controller : Accounts Exams PSEB
Ex-Director : Public Relations, Languages PSEB

Activities


Media Interviews:
Given more than 50 T.V. and Radio interviews on Indian, English, Denish, Canadian & U.S.A. Networks. 60 discourses over AIR Jalandhar.

Representations:
Participated in various international conferences held in U.K. , U.S.A. , Canada, Holland, India as a senior delegate.

Publications:
Published 87 books out of which (i) Hair Power, (ii) Excellence of Sikhism, (iii) Glimpses of Harmandar, (iv) An Introduction to Sri Guru Granth Sahib, (v) Creation of Khalsa A turning point, (vi) Bhagat Contributors of Guru Granth Sahib, (vii) Mistaken Identity of the Sikhs, Turban, the Sikh Crown, Jewels in Gurbani are published in English, Panjabi and Hindi too. (At present total editions of all the publications are 320 in number and all are deluxe editions.)

Awards/Recognitions
Recipient of about 60 prestigious awards, honours and commendations from socio-religious organizations in India and abroad, such as :
Bhagat Puran Singh Award(1993)
Charhdi Kala Award(1994)
Hamdard Literary Award, Canada(1995)
Bhai Kahan Singh Nabha Award(1997)
Bay Writers' Association of California Sanman U.S.A. (1997)
Chief Khalsa dewan Outstanding Writer's Award(1998)
Bhai Mohan Singh Vaid Award(1999)
Secular India Harmony Award(1999)
Rising Personalities of India Award(1999)
Sachkhand Patra Award(1999) Nanded, Maharashtra
Life Time Achievement Award(1999/2000) Madras
Khalsa Dewan Soc. W.Minister B.C. Canada Award(1999)
U.K. Sangat Award(1999)
Panth Rattan Award(2000)
Pothohar Brotherhood Sanman(2000)
Ontario Khalsa Darbar Sanman, Toronto, Canada(2001)
Puthohar Association U.K. Honour(2001)
Sri Guru Singh Sabha Dadar, Mumbai Sanman(2002)
Shiromani Punjab Ratan Sanman (2002)
Guru Nanak Sikh Centre Brampton Award Canada(2002)
Punjab Radio London Sanman U.K. (2002)
Sur Sagar T.V. Sanman Canada (2002)
Goverment of Canada Appreciation Certificate (2002)
Penguin Award (2002)
Sanman from Takht Sri Damdama Sahib and Shiromani Gurudwara Parbandhak Committee as a prolific Gurmet writer (2003)
Nishan-e-Sikhi International Award, Khadur Sahib (2004)
Prof. Mohan Singh Foundation's Ruhaniat Award (2005)
Selfless Server of Soc Award, Renton, Washington (2008)
Recognition:
Recognized and mentioned in six Outstanding Personalities in Asian and American biographical directories. Mentioned in Directories published by Panjabi Govt. and various other organisations and writer books.
Proficiency:
Proficient in Panjabi, Hindi, English, Urdu languages.
Knowledge
Sanskrit, German, Bengali and Persian languages.
Foreign Visits
Travelled extensively in Asian, European and American continents for studies, attending conferences and Seminars and delivering lectures on various aspects of Sri Guru Granth Sahib.